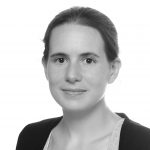 French language teacher and translator
Graduated in German and Czech languages from the Paris IV Sorbonne in 2012. Specializatioin in literature and centre-european art. Took part in numerous workshops and seminars at the Sorbonne. In 2010, she studied in the Czech Language Department at Charles Univerisity in Prague.
Since 2010 she is based in Prague and works as a freelance Frech language teacher and translator. She is currently associated with James Cook Languages where she teaches company courses.