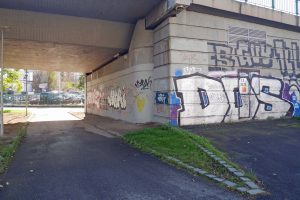 On Saturday, while I was taking out the recycling, I saw a man practising tennis under this ugly concrete bridge just two minutes from our flat. I was impressed how creatively people can use the city space to stay active.
TASK FOR THIS WEEK
Tennis courts, swimming pools, and gyms are now closed due to the Covid-19 pandemic. How do you manage to keep fit in this difficult situation? Write a short text about the activities you're doing now and the activitites you would like to do in the next weeks.
QUIZLET*
lockdown # How do you keep fit during the _____? (= restrikce pohybu občanů, karanténa)
concrete # _____ bridge. (= beton, betonový)
impressed # I was quite _______. (= Udělalo to na mě dojem. / Byl jsem ohromen.)
keep fit # How do you ______ _____ ? (= Jak se udržujete v kondici?)
*You can add these words directly to your Quizlet vocab.