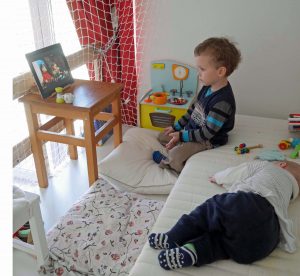 What TV show or movie have you watched recently? What is it about? How does watching it helps you in your everyday life?
[time needed: 5 – 15 min]
These days I often feel sad and overwhelmed. Do you? I sometimes have doubts that I will live up to the challenges of the next months. I need to stop thinking and escape for a moment.

The best escape for Eli and me today is Netflix – this month we're watching a series called Unbreakable Kimmy Schmidt (Czech: Nezdolná Kimmy Schmidt). Kimmy is 29 and she has spent 15 years in a bunker and is now discovering the real America. Her roommate called Titus is black, unemployed, gay, and overweight.
[A1-B1] – mírně pokročilí
unemployed # nezaměstnaný
overweight # s nadváhou, obézní
challenges # výzvy
discover # objevuje
series # televizní seriál
[B1-C1] – pokročilí
overwhelmed # She felt completely ______. (= ohromený velikosti úkolu nebo množstvím práce)
doubts # I have ______ that… (= Mám pochyby, že)
live up to # I could never ____ ____ ____ my parent's expectations. (= dostat očekávání, naplnit požadavky)
escape # She was lucky to _______ punishment. (= utéct z nepříjemné situace, taky útěk)