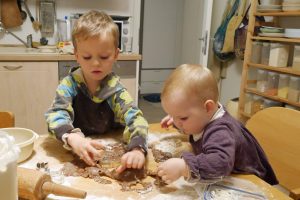 What's your favourite dish? Do you have a special memory with it? Can you share the recipe with us?
[time needed: 10 – 15 min]
It's sometimes hard to create an activity for kids so they stay focused and not fidget around. But there is one activity that always works with Franta and Johanka – that's making gingerbread cookies.

I love gingerbread cookies because they remind me of Christmas and being with my family, moments I really savour. These days we bake gingerbread cookies once a month – so we have twelve mini Christmases a year! Ain't we lucky?

Here's the recipe for gingerbread cookies we use. It's from Roman Vaněk (Kouzlo kuchyně Čech a Moravy, 2012).

INGREDIENTS
500 g very fine flour
175 g icing sugar
2 eggs
180 g honey
40 g softened butter
1/2 baking powder
1 tbsp gingerbread spice
15 g cocoa

METHOD
Use all the ingredients to make dough. Work the dough into a big ball. Sprinkle some flour, cover in tinfoil and leave it to chill for one night in the fridge. Roll the dough until 3-4 millimetre thick. Cut the cookies with your favourite cookie cutters (formičky) and put the cookies on a baking sheet, use baking paper. Bake for about 8 minutes at 180 degrees.

[A1-B1] – mírně pokročilí
dish # jídlo jako pokrm, např. rizoto, kulajda
memory # vzpomínka
recipe # recept na vaření
focused # soustředěný
gingerbread cookies # perníčky
dough # těsto
[B1-C1] – pokročilí
fidget around # vrtět se, být neklidný
it reminds me of # připomíná mi to
savour # vychutnat si, užit si
ain't # univerzální zápor, hovorově
tinfoil # potravinářská folie