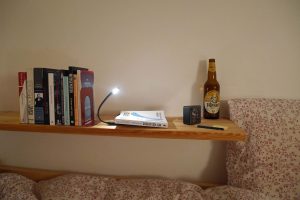 Is there a spot (= místo) where you feel safe and comfortable? Describe it. Why do you feel safe there? Share a photo with us using the "Vložit dokument" button.
[time needed: 5 min]
My days are often long and full of tasks and switching between many activities. Moreover, my working life is immersed more and more in the digital world and that can also be exhausting.
However, every evening just before I fall asleep I spend 20-30 minutes in my favourite spot – it is my bed. I have no digital technologies there, just a few books, my notes and a pencil, a bottle of beer, and my thoughts. I feel safe there.

By the way, the shelf you see in the picture was made by my client – Matěj. If you need help at your homes he may be able to help you. You can find his contact details in "Klienti". 😉
What is your favourite spot? Is it a part of your flat or a house, a park, a cottage, your garage, your car, your office, a café, or maybe your hometown? Describe it an send us a picture via the "Vložit dokument" button (the blue one). I will then add the picture manually and resize it.
[A1-B1] – mírně pokročilí
switch # přepínat (mezi úkolu, jazyky)
however # ale, nicméně
exhausting # vyčerpávající
shelf # regál
[B1-C1] – pokročilí
moreover # kromě toho
immersed # ponořený do něčeho