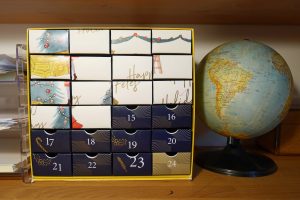 Share your Christmas mood with us. Write about your decoration at home or a habit you have in your family. Why is Christmas important to you?
[time needed: 10 min]
This is a piece of merch from a French cosmetics company called L'Occitane. The little drawers of this box used to be filled with samples of cosmetics and beauty products from L'Occitane.

Today they are filled with gingerbread cookies, sweets and lentilky. Franta has so far opened fourteen drawers. How many days to go to Christmas then?

Our daughter Johanka doesn't follow the rules of opening the drawers. She occasionally opens and eats most of the sweets so we need to refill the drawers for Franta in the evening.

Christmas is important to me because it is the time I am in closest contact with my wife and kids and it is a time to rejoice that we are together. The transition from celebrating Christmas Eve with my parents to celebrating with my partner only was a very important change in my life. I was 28 years old.

Why is Christmas important to you?
---
mood # nálada
habit # zvyk
merch # reklamní materiál [nepoč.]
drawer # šuplík
sample # vzorek
sweets # bombony
so far # zatím
days to go # zbývá dnů (do Vánoc)
follow the rules # dodržovat pravidla
occasionaly # sometimes, obšas
rejoice # mít radost z, jásat
Christmas Eve # Štědrý den, Štědrý večer